Ystad Gymnasium got a new guest on May 11th when Alice Hägg, PhD student in Neural Stem Cells, visited the school for an engaging presentation and workshop. Two high school classes from the Natural Sciences and Social Sciences programs were given the opportunity to immerse themselves in the world of stem cell research and the ethical issues surrounding this field.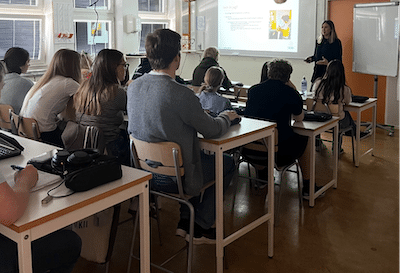 With an enthusiastic demeanor, Alice led the students through the IndiCell project, which focuses on developing patient-specific cell therapies. Students were given an overview of stem cell technology and its potential to revolutionize medical treatment.
Alice spreads knowledge about IndiCell.
The highlight of the day was an interactive workshop where students got hands-on experience with the techniques of cell culture in plates. Under the guidance of Alice, students 'grew' cells and learned the basic steps of laboratory work. They also had the opportunity to use microscopes to study real transplants of dopamine-producing brain cells for the treatment of Parkinson's disease, which sparked their curiosity and enthusiasm.
Another important topic that Alice touched on was the ethical considerations in stem cell research. Students engaged in a thought-provoking discussion on the moral dilemmas that can arise when working with donated stem cells for medical use. These dilemmas included issues of donor consent, ownership of cells and potential commercialization situations.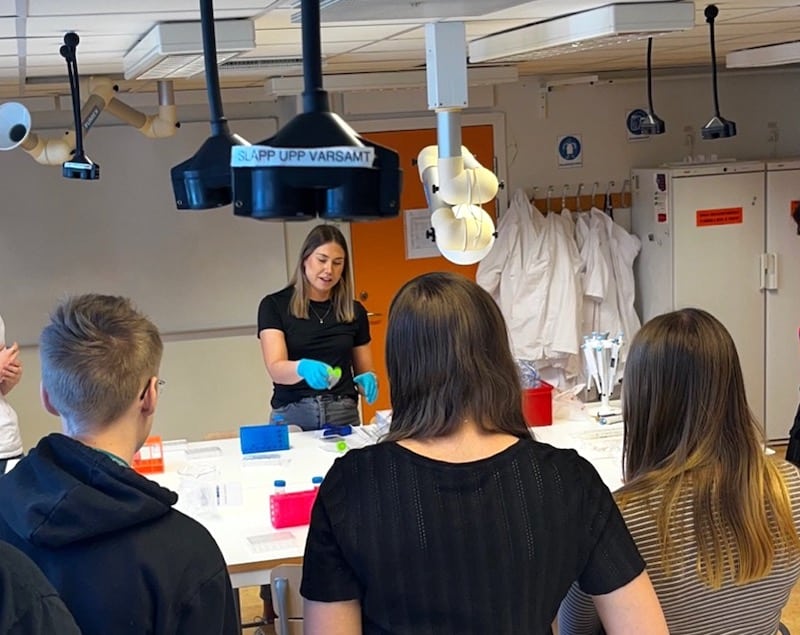 Alice further developed the discussion by raising the controversial issue of animal testing in research. The students gained an in-depth understanding of why and how animal testing is necessary today to evaluate stem cell-based treatments before they are tested on humans, but also how researchers are constantly working actively to replace and reduce the number of animal tests. (Read more about the 3Rs "Replace, Reduce, Refine", an important basis in Swedish and European law.) The discussion led to an increased awareness of the complex issues facing researchers in this field.
In summary, it was a rewarding day at Ystad Gymnasium with Alice Hägg and her PhD project. Students gained insight into cutting-edge research and laboratory work while reflecting on the ethical aspects of stem cell research. A memorable day that will hopefully inspire the next generation of young researchers and science enthusiasts!