Torbjörn Pettersson and Nils Brechmann will attend the American Society of Gene & Cell Therapy 26th meeting in Los Angeles from 16th to 20th of May. We will be present with the booth 900 and we will be presenting the poster 748 with the title Scalable magnetic bead-based cell separation technology for the depletion of receptor positive cells.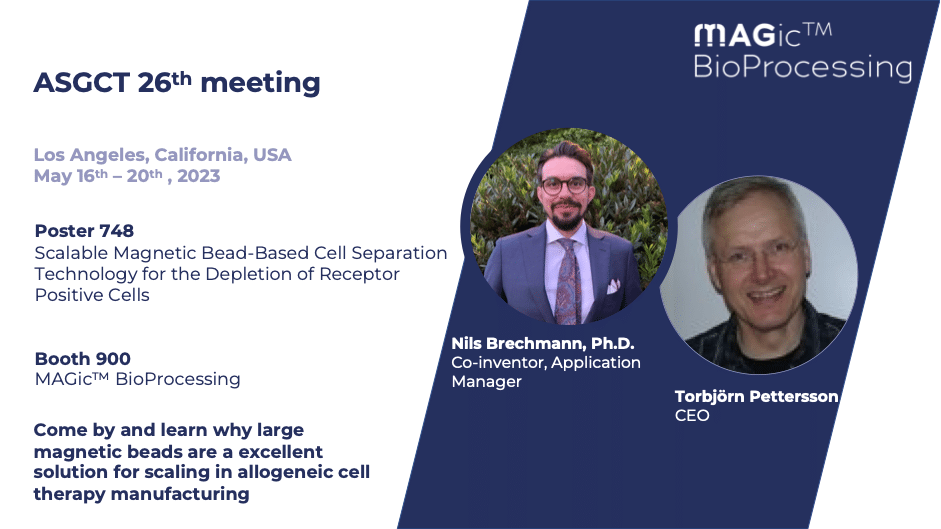 The ASGCT 26th meeting is an annual meeting organised by the American Society of Gene and Cell Therapy with a focus on the holistic view of gene and cell therapy development from discovery to manufacturing and commercialisation. We will present our manufacturing tool to enable large scale isolation of pluripotent cells to help to excel iPSC-based cell therapies developed within the IndiCell competence centre.
During the ASGCT 26th meeting MAGic™ BioProcessing will be on site with both a booth and a poster presenting our work, applications and products. At the booth with the number 900 you are welcome to visit us and see our lates products for the scalable isolation of receptor positive cells, ranging from ready to use kits to pilot scale separators. In addition to the booth MAGic™ BioProcessing is presenting the poster with the number 748 showing the isolation of receptor positive cell populations using magnetic beads, based on intermediate Protein A linker.