Kristofer Eriksson will attend BioProcess International Europe in Amsterdam on May 9-12. He presents the poster RP18 entitled Protein A magnetic beads for capture and recovery of antibodies from non-clarified feed.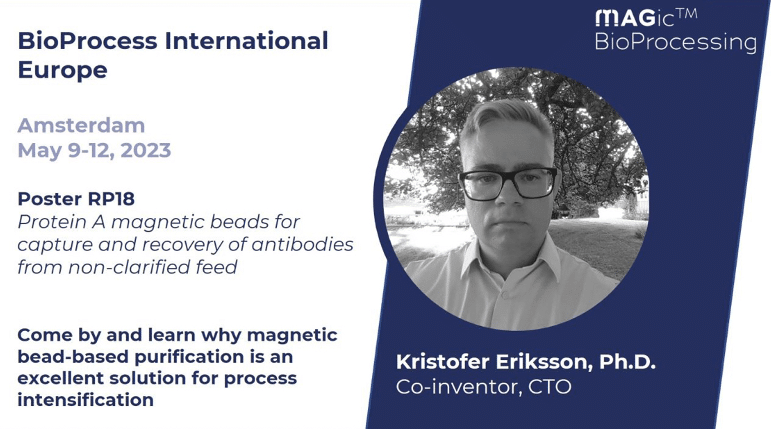 The BPI conference is the leading bioprocessing event for the acceleration of next generation mAbs, novel modalities and ATMPs to commercialisation. This event focus primarily on bioprocessing strategies to solve bottlenecks for current biopharmaceuticals and develop manufacturing strategies for ATMPs, such as cell therapies, to help bring safe and reliable therapies to the patient. We will present our manufacturing tool to enable large magnetic bead-based purification, which can be utilized for the manufacturing of different biopharmaceutical modalities such as monoclonal antibodies or for the isolation of receptor positive cells.
At the BPI we will present our work as a poster with the number RP18. The poster shows our current portfolio for the capture and recovery of antibodies from non-clarified feed based on Protein A magnetic beads. With a focus on the need for a combined clarification and capture step, as well as the binding capacity, alkaline stability, high throughput capabilities and high productivity of the magnetic bead-based technology.